Details

March 24, 2020
9:00AM-4:30PM
Hospice Clinical Bootcamp
***POSTPONED!***
LeadingAge Ohio Offices, 2233 North Bank Drive, Columbus, OH 43220
Hospice Clinical Bootcamp
***POSTPONED!***
In light of the Coronavirus/COVID-19 pandemic, the protocols/guidelines/recommendations from national, state and local authorities, and our concern for our members and partners, LeadingAge Ohio has decided to postpone the Hospice Clinical Bootcamp event scheduled for March 24.
We plan to reschedule this event in the near future, and additional correspondence will come from me in the coming weeks.
We wanted to make you aware of this postponement as soon as possible and we certainly appreciate your understanding of this decision. LeadingAge Ohio will keep you posted as new plans unfold, and it is our sincere hope that you will be able to participate when the event is rescheduled.
COURSE DESCRIPTION:
---
This day long offering will include what direct care staff need to know related to the Medicare Hospice Benefit, the Hospice Conditions of Participation, Advance Care Planning, Hospice-Nursing Facility Collaboration, Non-Cancer documentation, symptom management and professional barriers and communication in hospice. This education will greatly benefit all new hospice nurses, social workers, chaplains and volunteer and bereavement coordinators not to mention being a good refresher for all seasoned front-line staff.


OBJECTIVES:
1. Explain the philosophy of hospice care.
2. Define unique hospice characteristics.
3. Explain components of the Hospice Medicare Benefit.
4. Discuss the importance of Advance Care Planning.
5. Discuss components and importance of hospice symptom management.
6. Identify basic components of hospice Conditions of Participation.
7. Discuss major components of Hospice COP's, Sub-Part C.
8. Discuss the major components of Hospice COPs, Sub-Part D.
9. Describe information needed in non-cancer documentation.
10. Discuss the importance of hospice collaboration with nursing facilities.

DATE:
March 24, 2020


TIME:
9:00am - 4:30pm


LOCATION:
LeadingAge Ohio
2233 North Bank Drive
Columbus, OH 43220

WHO SHOULD ATTEND:
Nurses, Social Workers and other healthcare professionals that are new to hospice

COST:
LeadingAge Ohio Member: $125 per registrant
Non-member: $300 per registrant

(Fee includes all workshop materials, light continental breakfast, lunch, and continuing education hours.)


PRESENTED BY: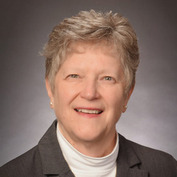 Anne M. Shelley, MBA, BSN, RN
Director of Professional Development
& HH/Hospice Regulatory Relations
Two Easy Ways to Register
By Mail: DOWNLOAD THE FLYER and mail form with payment to:
LeadingAge Ohio
2233 North Bank Drive
Columbus, OH 43220
Online: Please click here

Your registration will be complete upon receipt of this form and payment. All registrants will receive an email confirmation. If you do not receive a confirmation, please contact Corey Markham at (614) 545-9015 or cmarkham@leadingageohio.org.
Substitution and Cancellation Policy: Substitutions, in writing, are welcome at no additional cost. Cancellations received by two calendar weeks prior to event date will be fully refunded. Cancellations received between 7 and 13 days prior to the event date will be refunded minus a $40 processing fee. No refunds will be issued 6 or fewer days prior to the event date.
Continuing Education Information
This event will provide 6.5 contact hours for nurses and nursing home administrators/6.0 clock hours for social workers.
Criteria for completion: Attendance at entire event. Prorated contact hours will be considered in special circumstances, as allowed by your
professional board.
The planning committee has declared no conflict of interest. The presenter has declared no conflict of interest and has agreed to present
information fairly and without bias.
LeadingAge Ohio is approved as a provider of nursing continuing professional development by the Ohio Nurses Association, an accredited approver by the American Nurses Credentialing Center's Commission on Accreditation. (OBN-001-91)
LeadingAge Ohio is a Social Work approved provider (#RSX020502) of continuing education by the Ohio Counselor, Social Work, & Marriage & Family Therapist Board.
LeadingAge Ohio is an approved provider by the Board of Executives of Long Term Services and Supports. Core of knowledge subject area: Resident Centered Care and Quality of Life; Management and Leadership
2020-03-24 09:00:00
2020-03-24 16:30:00
America/Detroit
Hospice Clinical Bootcamp
Hospice Clinical Bootcamp ***POSTPONED!*** In light of the Coronavirus/COVID-19 pandemic, the protocols/guidelines/recommendations from national, state and local authorities, and our concern for our members and partners, LeadingAge Ohio has decided to postpone the Hospice Clinical Bootcamp event scheduled for March 24.  We plan to reschedule this event in the near future, and additional correspondence will come from me in the coming weeks. We wanted to make you aware of this postponement as soon as possible and we certainly appreciate your understanding of this decision.  LeadingAge Ohio will keep you posted as new plans unfold, and it is our sincere hope that you will be able to participate when the event is rescheduled.  COURSE DESCRIPTION: This day long offering will include what direct care staff need to know related to the Medicare Hospice Benefit, the Hospice Conditions of Participation, Advance Care Planning, Hospice-Nursing Facility Collaboration, Non-Cancer documentation, symptom management and professional barriers and communication in hospice. This education will greatly benefit all new hospice nurses, social workers, chaplains and volunteer and bereavement coordinators not to mention being a good refresher for all seasoned front-line staff. OBJECTIVES: 1. Explain the philosophy of hospice care.2. Define unique hospice characteristics.3. Explain components of the Hospice Medicare Benefit.4. Discuss the importance of Advance Care Planning.5. Discuss components and importance of hospice symptom management.6. Identify basic components of hospice Conditions of Participation.7. Discuss major components of Hospice COP's, Sub-Part C.8. Discuss the major components of Hospice COPs, Sub-Part D.9. Describe information needed in non-cancer documentation.10. Discuss the importance of hospice collaboration with nursing facilities. DATE:March 24, 2020 TIME:9:00am - 4:30pm LOCATION:LeadingAge Ohio 2233 North Bank DriveColumbus, OH  43220 WHO SHOULD ATTEND:Nurses, Social Workers and other healthcare professionals that are new to hospice COST: LeadingAge Ohio Member: $125 per registrant Non-member: $300 per registrant(Fee includes all workshop materials, light continental breakfast, lunch, and continuing education hours.) PRESENTED BY: Anne M. Shelley, MBA, BSN, RNDirector of Professional Development& HH/Hospice Regulatory Relations     Two Easy Ways to Register By Mail: DOWNLOAD THE FLYER and mail form with payment to: LeadingAge Ohio2233 North Bank DriveColumbus, OH  43220 Online: Please click here Your registration will be complete upon receipt of this form and payment. All registrants will receive an email confirmation. If you do not receive a confirmation, please contact Corey Markham at (614) 545-9015 or cmarkham@leadingageohio.org. Substitution and Cancellation Policy: Substitutions, in writing, are welcome at no additional cost.  Cancellations received by two calendar weeks prior to event date will be fully refunded. Cancellations received between 7 and 13 days prior to the event date will be refunded minus a $40 processing fee. No refunds will be issued 6 or fewer days prior to the event date.   Continuing Education Information This event will provide 6.5 contact hours for nurses and nursing home administrators/6.0 clock hours for social workers. Criteria for completion: Attendance at entire event. Prorated contact hours will be considered in special circumstances, as allowed by yourprofessional board. The planning committee has declared no conflict of interest. The presenter has declared no conflict of interest and has agreed to presentinformation fairly and without bias. LeadingAge Ohio is approved as a provider of nursing continuing professional development by the Ohio Nurses Association, an accredited approver by the American Nurses Credentialing Center's Commission on Accreditation. (OBN-001-91) LeadingAge Ohio is a Social Work approved provider (#RSX020502) of continuing education by the Ohio Counselor, Social Work, & Marriage & Family Therapist Board. LeadingAge Ohio is an approved provider by the Board of Executives of Long Term Services and Supports. Core of knowledge subject area: Resident Centered Care and Quality of Life; Management and Leadership
LeadingAge Ohio Offices, 2233 North Bank Drive, Columbus, OH 43220
---