Complete Story

03/28/2019
Senators Steve Wilson and Kenny Yuko Introduce Bill to Establish an Alzheimer's Disease and Related Dementias Task Force
State Senators Steve Wilson and Kenny Yuko Introduce Bill to Establish an Alzheimer's Disease and Related Dementias Task Force
March 28, 2019
COLUMBUS - State Senator Steve Wilson (R-and State Senator Kenny Yuko (D-recently introduced bipartisan legislation to establish an Alzheimer's diseases and related dementias task force. Senate Bill 24 is currently pending in the Ohio Senate, but LeadingAge Ohio hopes to see quick passage of this critical bill.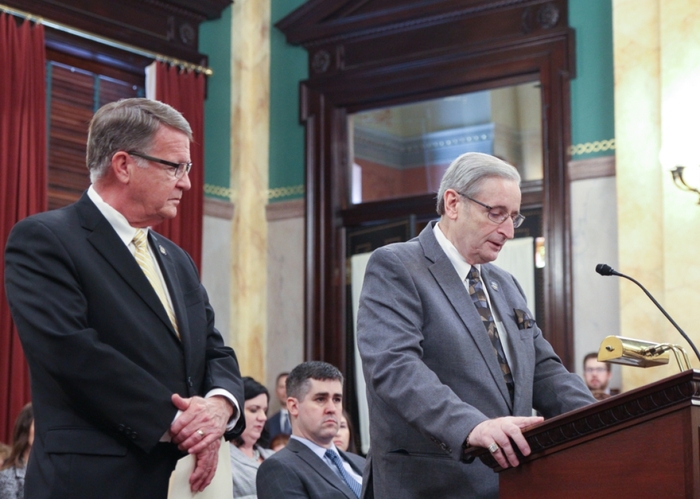 Senator Wilson & Senator Yuko giving testimony on the bill
The two senators held a press conference on February 13th and testified in the Senate Health, Human Services and Medicaid Committee on March 20th in an effort to move the bill.
"Ohio's population is getting older and we are not ready to support the growing number of people with Alzheimer's, their caregivers and their families," said Senator Yuko. "We have to act now to develop a plan of action for our communities and public support systems."
"Remarkably, Ohio is the only state in the nation that has not established a process for creating an official comprehensive plan to confront this growing public health crisis," said Senator Wilson. "I find that embarrassing and unacceptable."
With over 5 million Americans living with Alzheimers and an estimated cost of care of $277 billion in 2018, and as many as 16 million expected to suffer from the disease by 2050, the time is now to establish a plan (alz.org).
---